"I wanted to make songs that were the opposite of 'Genie in A Bottle' or 'The Boy Is Mine.' Songs that put affirmative consent at the heart of the subject matter and emphasize friendship among women and try to deescalate the toxic jealousy and ownership that are often centered in romantic pop songs." — Sadie Dupuis
Slugger is eleven tracks of unapologetic fun, fusing synth melodies with smooth guitar riffs. After Sadie moved to Philadelphia in early 2016, Slugger quickly began to take shape: "I wrote and played and recorded almost all of it in the two weeks I was subletting a friend's tiny bedroom," she says. Fittingly, directness, self-determinism, and intimacy are the bedrocks of Slugger's overall tone. Sadie maintains her dignified wit even in less-than-ideal entanglements, as on the album's opening track, "<2," styled to resemble the level of affection of which a heart is capable when it's been twisted out of shape. "I'm in less than two with you," sings Dupuis, her crystalline voice steadfastly delicate and assured, recalling self-proprietary forebears like Liz Phair and Fiona Apple.
Sad13's debut record Slugger is officially out today! Pick up a copy on the Carpark shop, iTunes or in a record store near you. The album is also streaming now via Spotify and Apple Music. Stop by select retail stores and receive limited edition Sad13 sticker sheets with the purchase of Slugger, while supplies last.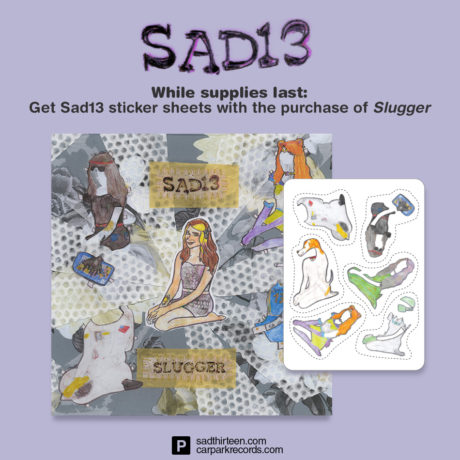 **Stores include: Criminal Records (Atlanta, GA); End of An Ear (Austin, TX); Waterloo (Austin, TX); Looney Tunes (Babylon, NY); Sound Garden (Baltimore, NY); Amoeba (Berkeley, CA); Rasputin (Berkeley, CA); Newbury Comics (Boston, MA); Exile On Main Street (Branford, CT); Earwax Records (Brooklyn, NY); Rough Trade (Brooklyn, NY); Laurie's Planet of Sound (Chicago, IL); Reckless Records (Chicago, IL); Saki (Chicago, IL); Good Records (Dallas, TX); Lou's Records (Encinitas, CA); Cactus (Houston, TX); Fingerprints (Long Beach, CA); Amoeba (Los Angeles, CA); Homer's (Omaha, NE); Repo Records (Philadelphia, PA); Zia Records (Phoenix, AZ); Everyday Music (Portland, OR); Jackpot (Portland, OR); Music Millenium (Portland, OR); Princeton Record Exchange (Princeton, NJ); Schoolkids Records (Raleigh, NC); Plan 9 (Richmond, VA); Amoeba (San Francisco, CA); Easy Street (Seattle, WA); Everyday Music (Seattle, WA); Silver Platters (Seattle, WA); Sonic Boom (Seattle, WA); Salzers (Ventura, CA)
Sad13 currently touring North America. Tickets on sale now.
November 13th – Toronto, ON @ Smiling Buddha
November 14th – Columbus, OH @ Double Happiness
November 16th – Northampton, MA @ 13 Queen
November 17th – Hamden, CT @ The Space
November 18th – Washington, DC @ Songbyrd
November 19th – Jersey City, NJ @ Monty Hall
November 21st – Cleveland, OH @ Malhall's
November 22nd – Detroit, MI @ El Club
November 23rd – Chicago, IL @ Beat Kitchen
November 25th – Omaha, NE @ Milk Run
November 26th – Denver, CO @ Larimer Lounge
November 27th – Salt Lake City, UT @ Kilby Court
November 28th – Boise, ID @ Neurolux
November 29th – Seattle, WA @ Vera Project
November 30th – Portland, OR @ Bunk Bar
December 2nd – San Francisco, CA @ Hemlock Tavern
December 3rd – Los Angeles, CA @ The Bootleg
December 6th – Dallas, TX @ Double Wide
December 7th – Austin, TX @ Mohawk
December 9th – Atlanta, GA @ Drunken Unicorn
December 10th – Durham, NC @ Pinkhook
December 11th – Richmond, VA @ Strange Matter
December 13th – Brooklyn, NY @ Baby's All Right
December 14th – Boston, MA @ Middle East