Rituals Of Mine
SLEEPER HOLD (Remixes) EP
About
SLEEPER HOLD, the new EP from Los Angeles-based electronic and alt-R&B duo Rituals of Mine, is as tense and captivating as its name suggests. Songwriter and vocalist Terra Lopez began writing the songs that would eventually inhabit the EP, during one of the most harrowing and self-reflective times in her life. "In 2016 my father committed suicide, and six months later my best friend died in an accident." recalls Lopez. "Both of those losses were incredibly devastating, and it was massive for me because these two people who were such important figures in my life were gone. These new songs all derived from the past three and a half years of my life and what those losses made me confront." Lopez began processing her grief through songwriting, and gradually faced her past traumas. Lopez flew from California to Florida to work with her longtime collaborator and producer Wes Jones, and began developing a brooding sound that would match the emotional intensity of her writing. Over the course of a few months the two would craft some of the project's most cavernous and vulnerable songs to date.
"BURST," "HEAVYWEIGHT," and "BAD NEWS" are some of the first songs Lopez wrote after feeling empowered to be more honest with herself. The sudden and tragic changes in her life forced Lopez to reconcile with old pains. The EP's nightmarish yet self-assured first single "BURST" is Lopez processing her past traumas and demanding space that she has lived without for so long. "I am starting to realize that my story, my life is worth writing about, so this track is the first step." Lopez explained about the track. "'BURST' is about reclaiming my story and showing up for myself." The track's haunting and staccato instrumental is in stark contrast with Lopez's confident and melodic vocal delivery. Having the intimate space of a studio, occupied by only her and a producer, meant that Lopez could write from the heart in a way that didn't feel possible when there were more people in the room. "This new material is very direct and focused on what I want to express with things I've held in for so long." says Lopez. "It's finally me addressing all of that trauma because I finally had the space to do so."
In the three years since the release of their minimalist debut, Devoted, Lopez's music has been praised within the indie music community and Rituals of Mine has shared the stage with acts like Garbage, Tricky, Built to Spill, DEFTONES, and Le Butcherettes. Lopez hopes that with the expanded sound of her new EP, Rituals of Mine will reach new audiences, inspiring more listeners to confront and overcome their own struggles.
For the fourth and final installment of the SLEEPER HOLD (Remixes) EP, Rituals of Mine shares a remix of "BURST" by labelmate, Skylar Spence. "When I found out that Skyler wanted to do a remix, I was THRILLED. His music is so fun and such a polar opposite to what I make in terms of mood so I knew it was going to be good. This remix is ridiculously fun, energetic and flips the dark, r&b vibe of "BURST" and turns it into a frenetic dance track. I'm honored that he would want to work on something together and hope this is just the beginning of our collaborations." – Terra Lopez, Rituals of Mine. This final remix joins previously released remixes by Dev the Goon, Kevvy, and Alec Ness to make up the SLEEPER HOLD (Remixes) EP out February 5th on Carpark Records.
Artist Bio
Hailing from Sacramento, Rituals of Mine is the immersive, hybrid R&B-electronic project of Terra Lopez. Formerly known as Sister Crayon, the project led by Lopez and musician Dani Fernandez changed their name to Rituals of Mine after the then-duo signed to Warner Bros. Records in 2016. After parting ways with Fernandez in the fall of 2017, Lopez reclaimed Rituals of Mine as a solo project. Now, Lopez as Rituals of Mine is set to release her first album as a solo act, Hype Nostalgia.
In 2015, Lopez's life was turned upside-down by grief and loss: Her father took his own life and six months later her best friend passed away in an accident. Still, Lopez kept working even as her emotions went into overdrive. She went from being a high-functioning depressed person to dealing with the most crippling mental health experience of her life. But by 2018, she began the healing process and found therapy and medication that worked for her.
After leaving Warner Bros. Lopez signed to Carpark Records in April of 2019. Six months later, she shared a taste of what listeners will hear on HYPE NOSTALGIA with the release of the EP, SLEEPER HOLD. Filled with emotional intensity and self-reflective songwriting, the three-song project confronted the emotional rollercoaster that she's been riding for the past five years, head-on.
With HYPE NOSTALGIA, Lopez didn't want to solely focus on the heaviness of her life. Instead, she opted to create an album written from a pre-loss perspective. Dark moments and devastation glimmer throughout Rituals of Mine's latest record, but they don't dominate it. What does transpire is Lopez's ability to reconcile with her emotional trauma by reimagining her past in a way that isn't shrouded in total darkness, but glimmers of light and hope.
Between St. Augustine, Florida and Los Angeles, Lopez collaborated with producers Wes Jones and Dev the Goon on what would become HYPE NOSTALGIA. The result is a self-assured 13-track LP interspersed with future R&B, electronic and pop and layered with the softness of Lopez's ethereal vocals. From tackling what it's like to be a woman of color in the music industry to exploring intergenerational trauma, HYPE NOSTALGIA is an all-encompassing look at Lopez's personal growth and resilience.
With the addition of Lopez's drummer Adam Pierce, Rituals of Mine's live performances have become bolder and more bombastic. And since the release of their major label debut Devoted, Rituals of Mine has continued to flourish within the indie community, sharing the stage with artists like DEFTONES, Built to Spill, Garbage and Tricky. With HYPE NOSTALGIA, Lopez offers a glimpse into her own experience in the hopes that it will open the door for listeners to confront their own mental health challenges and serve as a touchstone as they find their own way to process and heal.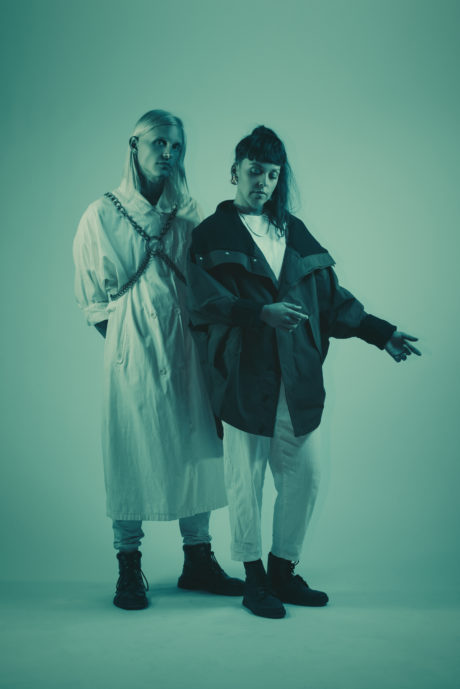 Marketing Info
Management:
courtney@directinputmgmt.com
Radio:
College/Non-Comm radio promotion via Terrorbird Media
UPCs:
Digital: 677517406955
Tracklist
BURST (Dev The Goon Remix)
2. BAD NEWS (Kevvy Remix)
3. HEAVYWEIGHT (Alec Ness Remix)
4. BURST (Skylar Spence Remix)