The latest album from Toro Y Moi, What For?, is out today! It's available on limited deluxe LP, standard LP, CD, and digital formats.
Pick up a copy from iTunes, Amazon, Bleep, Google Play, or your favorite retailer. Of course, it's also available in the Carpark shop and Toro Y Moi's shop. Stream via Rdio and Spotify. Participating independent record stores will have Toro Y Moi diffraction glasses available to those who purchase the album while supplies last. Find a list of some of these stores below.
The next leg of the band's North American tour kicks off this weekend at Coachella. Check out all the dates here.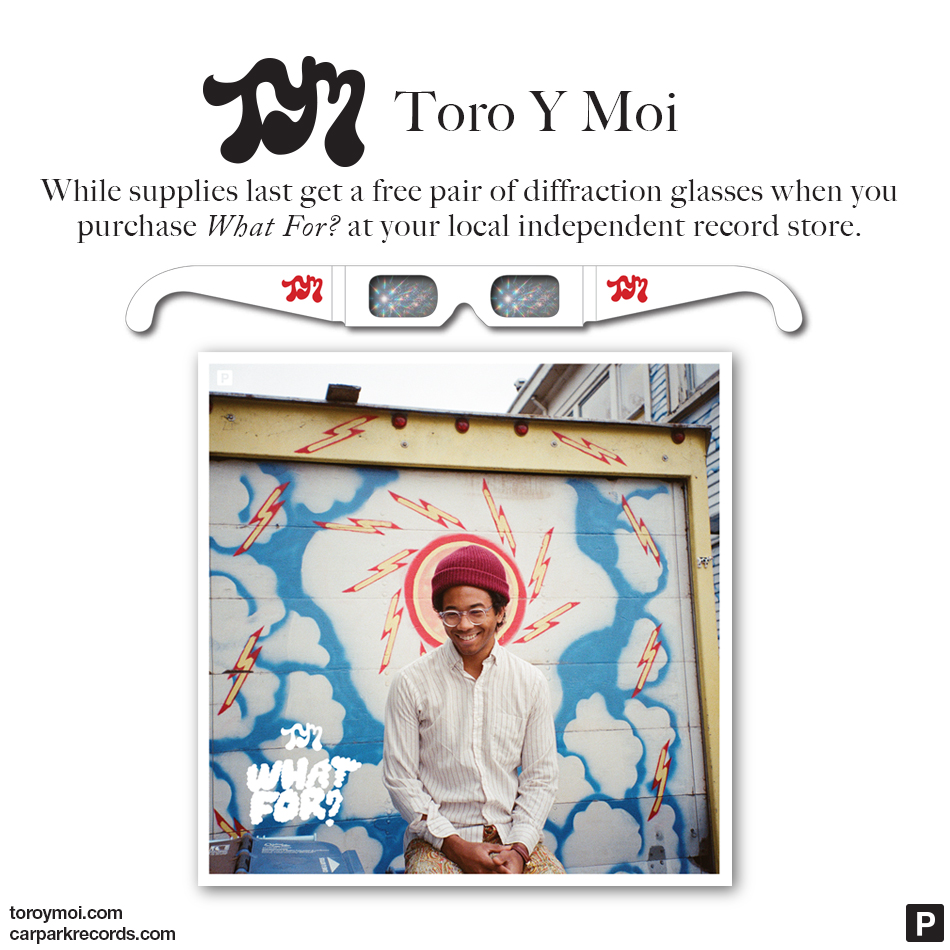 List of independent record stores with the Toro Y Moi diffraction glasses for What For? customers:
Boo Boo Records (San Luis Obispo, CA)
Rasputin
(San Francisco, CA)
M-Theory (San Diego, CA)
Amoeba (Hollywood, CA)
Red Onion Records (Washington, D.C.)
Main Street Music (Philadelphia, PA)
Dearborn Music (Dearborn, MI)
Daves Music Mine (Pittsburgh, PA)
Magnolia Thunderpussy (Columbus, OH)
Guestroom Records (Louisville, KY)
Grimey's (Nashville, TN)
School Kids (Raleigh, NC)
Criminal Records (Atlanta, GA)
Cactus (Houston, TX)
Good Records (Dallas, TX)
Waterloo Records (Austin, TX)