Happiest of release days to our beloved Speedy Ortiz! Twerp Verse is now available on the Carpark shop, Speedy shop, & at your fave indie record store. You can also listen to the record everywhere you go on any/all streaming services. Happy Friday! Happy listening!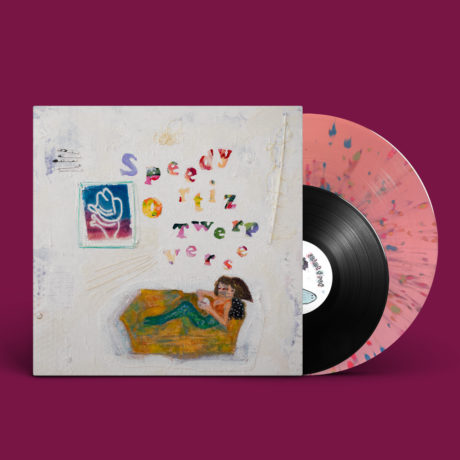 "Necessary brattiness" is the motto for Speedy Ortiz's dauntless new collection of songs, Twerp Verse. The follow-up to 2015's Foil Deer, the band's latest indie rock missive is prompted by a tidal wave of voices, no longer silent on the hurt they've endured from society's margins. But like many of these truth-tellers, songwriter, guitarist and singer Sadie Dupuis scales the careful line between what she calls being "outrageous and practical" in order to be heard at all.
"Twerp Furs" Rough Trade NYC installation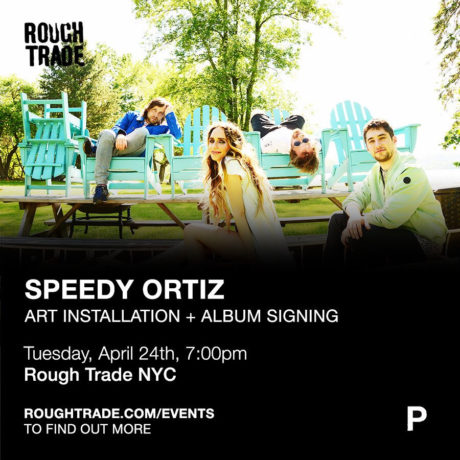 In this interactive exhibit, "Twerp Furs," celebrating Speedy Ortiz's newest album, Twerp Verse, the walls of the Rough Trade NYC's Guardian Room shipping container will be covered with bright white stuffed-animal faux fur shag. Blue raindrops will be stuck to the walls, which visitors are invited to interact with however they see fit.
The band explains, "Twerp Verse is about maintaining optimism and staying engaged in a country that regularly feels steps away from apocalypse. We loved the idea of an over-the-top faux fur installation, which takes cues from our 'Lean In When I Suffer' video. It's fun, gaudy, soft and, in its own way, comforting, but it will slowly degrade with time. The room allows visitors to actively engage in shaping and changing it–kind of like our world."
This installation is on display indefinitely.
A selection of eating establishments will be doing special Speedy Ortiz-themed vegan items and/or ticket giveaways at various stops along the band's upcoming tour.
April 27th – Philadelphia, PA – Little Baby's
May 3rd – New Haven, CT – Claire's Corner Copia
May 4th – Allston, MA – Fomu
May 5th – Washington, DC – Sticky Fingers Bakery
May 8th – Durham, NC – Dos Perros
May 13th – Detroit, MI – El Club
May 29th – Lakewood, OH – Cleveland Vegan
June 2nd – Austin, TX – Bouldin Creek
June 5th – Phoenix, AZ – Green / Nami
June 7th – Los Angeles, CA – Donut Friend
June 12th – Portland, OR – Homegrown Smoker
Indie retail giveaways with purchase of Twerp Verse

Illustration of your favorite indie record store. Illustrations by the talented Sadie Dupuis.
**Participating stores**
Amoeba Hollywood, Criminal Records, Electric Fetus, Fingerprints Music, Grimey's, Music Millennium, Repo Records, Rough Trade NYC, Sound Garden, Waterloo Records, Wax Trax Records

Speedy Ortiz poster. Art by Jaime Hernandez.
**Participating stores**
Al Bums Record Shoppe, Albums on the Hill, Amoeba Berkeley, Amoeba SF, Angry Mom Records, Arkansas Record Exchange, Boo Boo Records, Bull Moose, Cactus Music, CD Cellar, CD Central, Central Square, Creep Records, Criminal Records, Culture Clash, Daddy Kool Records, Darkside Records, Dave's, Dearborn Music, Decatur CD, Dimple, Down In The Valley, Drastic Plastic, Ear Candy, Earshot, East West Records, Easy Street, Electric Fetus, Euclid, Everyday Music, Exclusive Co, Fantasyland Records, Finders, Fingerprints, Flat Black & Circular, Freakbeat, Good Records, Graywhale, Grimey's, Groovacious Platters, Guestroom Records, Hill & Dale Records, Homer's, Horizon Records, Hungry Ear, Independent , Indy CD, Jackpot Records , Josey Records, Juke Records, Ka-Chunk Records, Karma Records, Landlocked Music, Laurie's, Lost Weekend, Lou's Records, Lucky Records, Luna Music, Lunchbox Records, M-Theory, Magnolia Records, Magnolia Thunderpussy, Main Street Music, Mile Long Records, Mills Record Co, Mojo Books & Records, Moldy Toes, Monster Music, Music Millennium , Obsession Records , Oz Music, Park Ave CDs, Plaid Room Records, Princeton Record Exchange, Pure Pop, Radio Active, Radio Kaos, Ralph's Records, Reckless Records, Record Archive, Record Den, Records Per Minute, Resurrection Records , Rhino Records, Rolling Stone, Salzer's, SchoolKids Records, Scotti's Record Shop, Seasick Records, Shake it, Shuga, Silver Platters, Siren Records , Skips Records, Songbyrd, Sonic Boom, Sound & Vision, Spoonful, Stinkweeds, Streetlight Records, Strictly Discs, Sweat Records, T-Bones, Technique Records, The End Of All Music, The Groove, The Long Ear, The Record Exchange, The Sound Garden, Toxic Beauty Records, Used Kids, Vintage Vinyl, Vinyl Renaissance, Vinyl Tap, Waiting Room, Watts Records, Wax N Facts, Wazoo, Wooden Nickle Records, Wuxtry, Zia Records, ZZZ
Tour kicks off next week!


May 3rd – Hamden, CT – Space Ballroom
May 4th – Cambridge, MA – Elk's Lodge
May 5th – Washington, DC – Black Cat
May 7th – Norfolk, VA – Charlie's American Cafe
May 8th – Durham, NC – The Pinhook
May 9th – Atlanta, GA – The Masquerade – Purgatory
May 10th – Nashville, TN – The High Watt
May 12th – Chicago, IL – Subterranean
May 13th – Detroit, MI – El Club
May 14th – Toronto, ON – The Legendary Horseshoe Tavern
May 15th – Montreal, QC – La Vitrola
May 16th – Greenfield, MA – The Root Cellar
May 17th – Brooklyn, NY – Music Hall of Williamsburg
May 29th – Lakewood, OH – Mahall's
May 30th – Louisville, KY – Zanzabar
June 1st – Little Rock, AR – Stickyz Rock'n'Roll Chicken Shack
June 2nd – Austin, TX – Barracuda
June 3rd – Dallas, TX – Club Dada
June 5th – Phoenix , AZ – Rebel Lounge
June 6th – San Diego, CA – Soda Bar
June 7th – Los Angeles , CA – The Echo
June 9th – Oakland, CA – Starline Social Club
June 10th – San Francisco, CA – Cafe Du Nord
June 12th – Portland, OR – Doug Fir Lounge
June 13th – Seattle, WA – The Vera Project
June 14th – Boise, ID – Neurolux
June 16th – Denver, CO – Larimer Lounge
June 17th – Omaha, NE – Reverb
June 19th – St. Louis, MO – Blueberry Hill's Duck Room
June 20th – Indianapolis, IN – The Hi-Fi
June 26th – Boston, MA – Royale