"Necessary brattiness" is the motto for Speedy Ortiz's dauntless new collection of songs, Twerp Verse. The follow-up to 2015's Foil Deer, the band's latest indie rock missive is prompted by a tidal wave of voices, no longer silent on the hurt they've endured from society's margins. But like many of these truth-tellers, songwriter, guitarist and singer Sadie Dupuis scales the careful line between what she calls being "outrageous and practical" in order to be heard at all.
We are proud to announce that Speedy Ortiz's brand new record, Twerp Verse, will be out April 27th, 2018. Check out the slimy music video for the first single "Lucky 88," via NPR.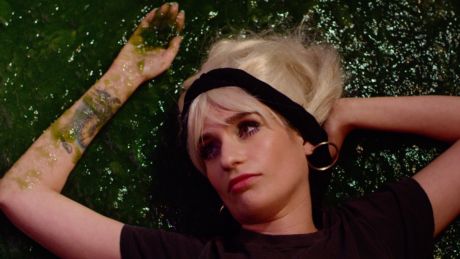 Twerp Verse pre-orders are available on the Carpark shop and iTunes. "Lucky 88" is also available on your favorite streaming service.
Bundle your purchase of an LP, CD, Cassette with a Twerp Verse tee or Speedy Ortiz notebook or both! Deluxe LP includes pink vinyl with rainbow splatter and a bonus 7″. Get them while you can!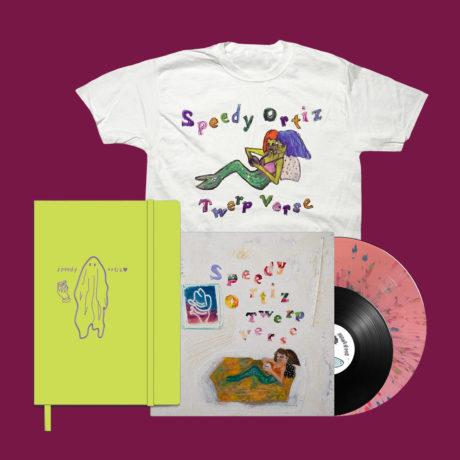 "You need to employ a self-preservational sense of humor to speak truth in an increasingly baffling world," says Dupuis. "I call it a 'twerp verse' when a musician guests on a track and says something totally outlandish – like a Lil Wayne verse – but it becomes the most crucial part. This record is our own twerp verse, for those instances when you desperately need to stand up and show your teeth."
—
In celebration of the new album, the band will be hitting the road this May. Tickets will be available on Friday, February 23rd at 10am EST.
March 13th – Austin, TX – SXSW
March 14th – Austin, TX – SXSW
March 15th – Austin, TX – SXSW
March 16th – Austin, TX – SXSW
April 21st – Lansing, MI – The Avenue
May 3rd – Hamden, CT – Space Ballroom
May 5th – Washington, DC – Black Cat
May 7th – Norfolk, VA – Charlie's American Cafe
May 8th – Durham, NC – The Pinhook
May 9th – Atlanta, GA – The Masquerade – Purgatory
May 10th – Nashville, TN – The High Watt
May 12th – Chicago, IL – Subterranean
May 13th – Detroit, MI – El Club
May 14th – Toronto, ON – The Legendary Horseshoe Tavern
May 15th – Montreal, QC – La Vitrola
May 17th – Brooklyn, NY – Music Hall of Williamsburg
May 29th – Lakewood, OH – Mahall's
May 30th – Louisville, KY – Zanzabar
June 1st – Little Rock, AR – Stickyz Rock'n'Roll Chicken Shack
June 2nd – Austin, TX – Barracuda
June 3rd – Dallas, TX – Club Dada
June 5th – Phoenix , AZ – Rebel Lounge
June 6th – San Diego, CA – Soda Bar
June 7th – Los Angeles , CA – The Echo
June 9th – Oakland, CA – Starline Social Club
June 10th – San Francisco, CA – Cafe Du Nord
June 12th – Portland, OR – Doug Fir Lounge
June 13th – Seattle, WA – The Vera Project
June 14th – Boise, ID – Neurolux
June 16th – Denver, CO – Larimer Lounge
June 17th – Omaha, NE – Reverb
June 19th – St. Louis, MO – Blueberry Hill's Duck Room
June 20th – Indianapolis, IN – The Hi-Fi
Twerp Verse
1. Buck Me Off
2. Lean In When I Suffer
3. Lucky 88
4. Can I Kiss You?
5. Backslidin'
6. Villain
7. I'm Blessed
8. Sport Death
9. Alone with Girls
10. Moving In
11. You Hate The Title