The day has finally come. Skylar Spence's debut album, Prom King, is out now!
Pick up a copy from the Carpark shop, iTunes, Amazon, or your favorite retailer. Stream via Spotify. The Carpark shop is currently sold out, but visit your local indie record store to see if they have the limited edition color vinyl version of the LP (gold vinyl with a sticker & stick of spearmint gum).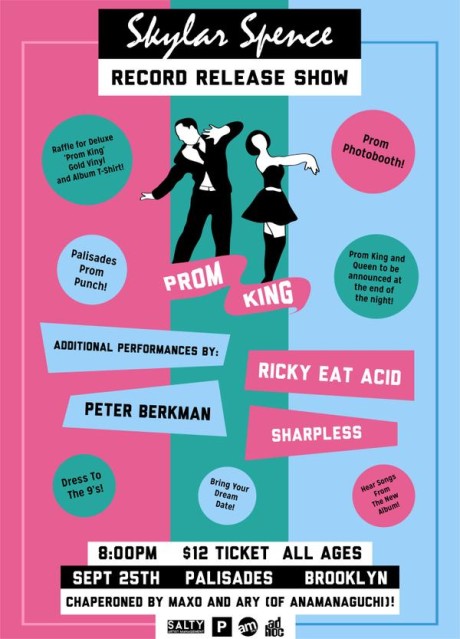 To help celebrate the release, the band will be throwing a record release party on Friday September 25th at Palisades in Brooklyn. Be one of the first ten buyers of the Prom King bundle & you'll also receive a limited edition red flexi 7″ of "radio disco action." Come hang out! Tickets on sale now.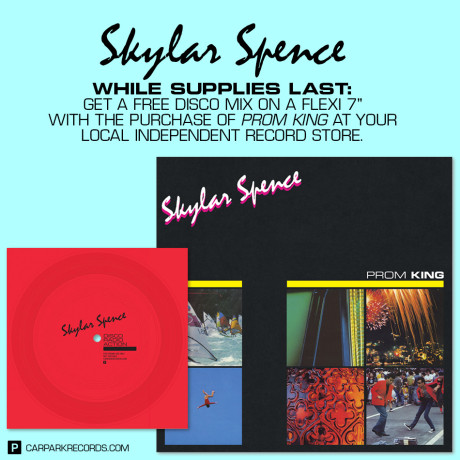 Select indie retailers will be giving away tickets to upcoming Skylar Spence shows. Folks can also get the "Disco Radio Action" flexi 7″ as an added value item while supplies last. See below for participating shows for each tour date:
September 25th – Brooklyn, NY @ Palisades
October 14th – Vancouver, BC @ Fortune Sound Club
October 15th – Seattle, WA @ Chop Suey – Silver Platters
October 16th – Portland, OR @ Holocene – Music Millenium
October 17th – San Francisco, CA @ Treasure Island Music Festival
October 22nd – Los Angeles, CA @ The Echo – Touch Vinyl
October 23rd – San Diego, CA @ Soda Bar – M-Theory Music
October 24th – Santa Ana, CA @ Beach Goth Festival
October 25th – Phoenix, AZ @ Valley Bar – Zia
October 26th – Tucson, AZ @ Solar Culture – Zia
October 27th – Albuquerque, NM @ Stereo Bar – Tradesmart
October 28th – El Paso, TX @ Lowbrow Palace – All That Music
October 29th – San Antonio, TX @ Paper Tiger – CD Exchange
October 30th – Dallas, TX @ Cambridge Room – Josey Records
October 31st – Austin, TX @ Stubbs, Jr. – End of An Ear
November 2nd – Norman, OK @ Opolis – Guestroom
November 3rd – Bloomington, IN @ The Bishop – Landlocked Music
November 4th – Chicago, IL @ Schubas Tavern – Rolling Stones
November 15th – Richmond, VA @ Strange Matter – BK Music
November 17th – Carrboro, NC @ Cat's Cradle Back Room – Schoolkids Records
November 18th – Atlanta, GA @ The Earl – Criminal Records
November 19th – Orlando, FL @ The Social – Park Ave CDs
November 20th – Miami, FL @ Bardot – Radio-Active Records
November 21st – Mexico City, DF @ Corona Capital Music Festival