Thrilled to announce that Skylar Spence is baack. Enjoy the ride with his new song, "Carousel," taken from his forthcoming two-track release out September 5th. Video created by Jena Goma (Showtime Goma, of A Sunny Day in Glasgow.)
The chorus was intended to be cyclical like a ferris wheel or a carousel — at the end of the ride, you end up where you started. In the song, the vacation starts out hectic which, for him ruins the point of a vacation, when you can't kick your feet up and relax. You need to work hard for those moments, to feel like you earned them. Those moments when one doesn't have to abide by a schedule, that allows for relaxation or even exploration, and they usually end up being the best parts of a vacation.
Carousel / Cry Wolf is available for pre-order here.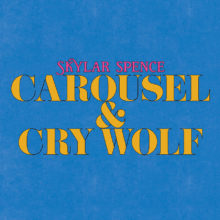 Carousel / Cry Wolf
1. Carousel
2. Cry Wolf