We are extremely hyped to announce the debut of Sadie Dupuis' (of Speedy Ortiz) solo project Sad13. Her new album Slugger is empowering, fun, and prioritizes self-possession in every sense. The first single "Get A Yes" is streaming now via NPR Music.
Slugger arrives November 11th. Pre-orders are available in the Carpark shop and iTunes.
LPs will be pressed on buttercup-colored vinyl.
"It's very strange ("Or not strange at all! Hi!" says feminism) that most of the music we funnel into little girls' ears—even music written by former little girls—is about how women are petty, pretty garbage whose only valuable function is to hold perfectly still in men's boudoirs and wait for intercourse. "I wanted to make songs that were the opposite of 'Genie in A Bottle' or 'The Boy Is Mine,'" Sadie Dupuis says of Slugger, her new solo album under the name Sad13. "Songs that put affirmative consent at the heart of the subject matter and emphasize friendship among women and try to deescalate the toxic jealousy and ownership that are often centered in romantic pop songs." What!? Songs for women that actually champion women's autonomy, reflect women's desires, listen to women when they talk, and let women be funny and normal and cool, like women actually are?" — Lindy West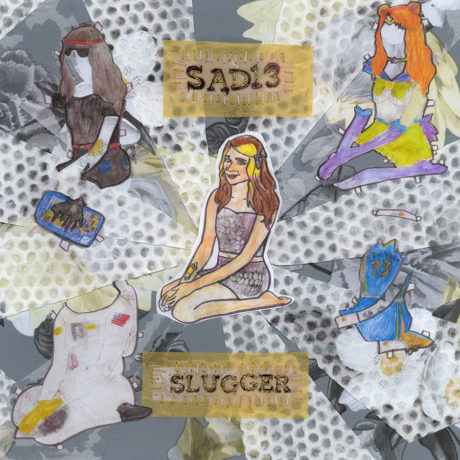 Slugger
1. <2
2. The Sting
3. Fixina
4. Get a Yes
5. Devil In U
6. Line Up
7. Just A Friend
8. Tell U What
9. Krampus (In Love)
10. Hype
11. Coming Into Powers (feat. Sammus)