Hear the "self-produced fuzzy synth experience" of Sad13's new track "sooo bad" via Adult Swim. The track is part of their Summer Singles program.
"Tracked in my mom's kitchen from 10 pm – 5 am, overdubs and mixing with our touring sound engineer Danielle DePalma at Seaside Lounge. Sad13's live drummer Zoë Brecher appears on a recording for the first time. Chad Clark of Beauty Pill/Smart Went Crazy mastered the song."
Sad13 is heading out on the second half of her UK/EU tour. Catch her this month!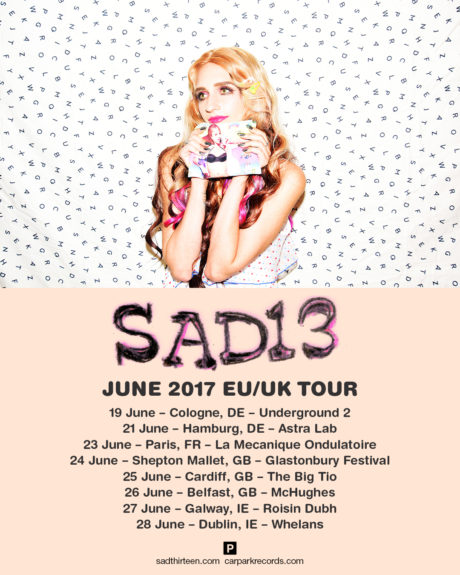 June 19 – Cologne, DE – Underground 2
June 21 – Hamburg, DE – Astra Lab
June 23 – Paris, FR – La Mecanique Ondulatoire
June 24 – Shepton Mallet, GB – Glastonbury Festival
June 25 – Cardiff, GB – The Big Top
June 26 – Belfast, GB – McHughes
June 27 – Galway, IE – Roisin Dubh
June 28 – Dublin, IE – Whelans