Madeline Kenney confronts societal pressures about motherhood in her new track, "Overhead." Check out the haunting music video via Stereogum. This is the second single from Kenney's forthcoming release, Perfect Shapes, out October 5th. Pre-orders available now.
Kenney on the track: "Lyrically, 'Overhead' is about the societal expectations of women to have children, my own grappling with those expectations, and considering the value and depth in my life without children. For the video, I wanted to express that idea through the image of an arid, lofty, haunted house — not traditionally creepy, but moreso haunted by my own personal demons. The women dancers come in to exorcise those demons out, offset the heaviness, and call attention to the fact that a lot of us are having the same internal conversations. During the video shoot, we talked a lot about this, and a few of the women agreed to share some words on what the song and video represent to them."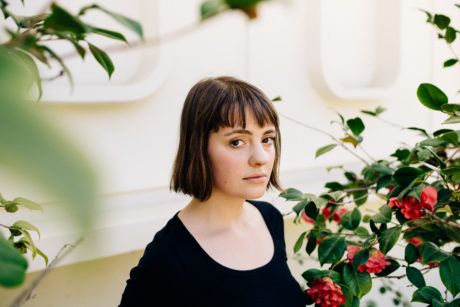 Catch Madeline Kenney on tour this Fall!
August 15th – Dover, UK – The Booking Hall *
August 16th – Bristol, UK – Louisiana *
August 18th – Exeter, UK – Exeter Phoenix *
August 19th – Birmingham, UK – Hare & Hounds *
August 21st – Edinburgh, IE – Summerhall *
August 22nd – Leeds, UK – Headrow House *
September 15th – Raleigh, NC – Kings %
October 15th – Santa Cruz, CA – The Crepe Place
October 18th – San Francisco, CA – Rickshaw Stop
October 20th – Los Angeles, CA – Moroccan Lounge
November 1st – Brooklyn, NY – Baby's All Right
November 2nd – Lancaster, PA – Tellus 360
November 3rd – Washington, DC – Songbyrd
November 4th – Philadelphia, PA – PhilaMOCA
November 6th – Toronto, ON – Monarch
November 7th – Cleveland, OH – Beachland Tavern
November 8th – Cincinnati, OH – MOTR Pub
November 9th – Chicago, IL – Schubas
November 13th – Brighton, UK – Green Door Store
November 4th – Bristol, UK – Rough Trade Bristol
November 15th – London, UK – Sebright Arms
November 16th – Paris, FR – Petit Bain
November 17th – Graz, AT – Autumn Leaves
November 20th – Brussels, BE – Botanique Witloof Bar
* = w/ Wye Oak
%= w/ Sugar Candy Mountain