Prince Rama just shared their latest music video for "Now Is The Time Of Emotion," taken from their new album Xtreme Now. Check it out via The Fader. Video directed by Matt Hoffman and Taraka Larson.
"We basically wanted to make a video where we could do all the taboo things we've always wanted to do in a museum but are never allowed to. So we broke into a modern art museum and incited gangs of skateboarders, motorcyclists, fencers, small children, and crazed-townspeople to ransack its contents, destroying the artwork in bizarrely surreal manners…" — Taraka Larson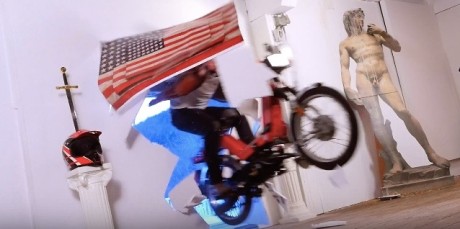 The Brooklyn duo is finishing up their last few dates in the states before heading overseas in May. Snag your tickets here.
North American Dates
April 12th – The Garrison – Toronto, ON
April 13th – Casa Del Popolo – Montreal, QC
April 14th – Great Scott – Allston, MA
April 15th – Ortlieb's Lounge – Philadelphia, PA
April 20th – Rough Trade – Brooklyn, NY
European Dates
May 5th – Point Ephemere – Paris, France
May 6th – Sonic – Lyon, France
May 7th – Le Rocking Chair – Vevey, Switzerland
May 9th – Rhiz – Vienna, Austria
May 11th – Meet Factory – Prague, Czech Republic
May 12th – Bargain Kantine – Berlin, Germany
May 13th – Artheater – Cologne, Germany
May 14th – OCCII – Amsterdam, Netherlands
May 15th – Incubate Festival Spring Edition – Tilburg, Netherlands
May 17th – Freedonia – Barcelona, Spain
May 18th – Sala Obbio – Seville, Spain
May 19th – Cafe Berlin – Madrid, Spain
May 20th – CAAA – Guimaraes, Portugal
May 21st- Lata de Zinc – Oviedo, Spain
May 22nd – Labranza – Bueu, Spain
May 25th – Music Box – Lisbon, Portugal
May 27th – Vooruit – Ghent, UK
May 28th – Norwich & Norfolk Festival – Norwich, UK
May 31st – Moth Club – London, UK