We are extremely happy to announce that Greys are back with a new album. Surprise! Warm Shadow is a companion piece to Greys' acclaimed sophomore album, Outer Heaven, comprised of original material as well as elements from that album's recording sessions at Hotel 2 Tango in Montreal. Penning new songs, manipulating tape drones created from various studio experiments and rearranging old favourites, Warm Shadow's intent is to create a parallel world which illuminates the dynamic contrasts that reside on Outer Heaven and within Greys themselves. Read more about it + check out an exclusive interview via Stereogum.
Warm Shadow is available on Bandcamp as a "Pay-What-You-Can" download. All proceeds go to Sistering. Sistering is a trans-inclusive agency supporting women from across Toronto who experience first hand the impact of marginalization and poverty. They may be homeless, or are at risk of becoming homeless. They are a diverse group, from 16 to 80-plus years old: women with substance use or mental health issues; sex workers; women who have interactions with the criminal justice system; women who have experienced, or are experiencing, trauma and violence; immigrant and refugee women; women with health issues and disabilities; and women without legal status.
Cassettes are also available on the Carpark shop.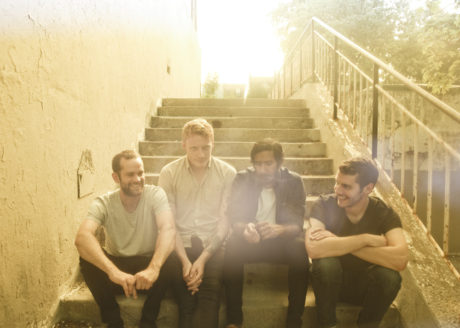 Catch Greys on tour this fall.
October 12th – Washington, DC – Comet Ping Pong $
October 13th – Brooklyn, NY – Aviv $
October 14th – Philadelphia, PA – Kung Fu Necktie $
October 15th – Montreal, QC – Turbohaus #
October 16th – Saint-Hyacinthe, QC – Le Zaricot #
October 17th – Quebec City, QC – L'Anti #
October 19th – Halifax, NS – The Marquee *
October 20th – Fredericton, NB – The Capitol #
October 21st – Ottawa, ON – House Of TARG
October 26th -Toronto, ON – Lee's Palace *
October 28th – Brooklyn, NY – Knitting Factory %
October 29th – Brooklyn, NY – Knitting Factory %
October 30th – Tallahassee, FL – Club Downunder ^
October 31st – Mobile AL – The Merry Widow ^
November 2nd – Oxford, MS – Proud Larry's ^
November 3rd – Memphis, TN – Hi-Tone Cafe ^
November 4th – Nashville, TN – Drkmttr
November 5th – Atlanta, GA – 529
November 6th – Richmond, VA – Sound Of Music
* – w/ White Lung
$ – w/ Big Ups
# – w/ Partner
% – w/ Japandroids
^ – w/ Bully