We are beyond excited to welcome Palm to the Carpark family! Catch them on the road and at SXSW this march. More news coming soon !!
"Palm plays rock music backwards.
Their songs bare a certain methodology, though there is a tendency towards impulse which seems almost violently opposed to it. The band deals willfully in contradictions like this. The elements of any given song fit together like slightly melted puzzle pieces, serving up rigidity and looseness in equal measure. Palm songs imply architecure, but their compositional structures are somehow bound by different rules of physics than the ones we know. Lattices of guitar language (provided by Eve Alpert and Kasra Kurt) intersect the rhythmic organism characterized by the twitchy throb of Gerasimos Livitsanos' bass and the carless tumble of Hugo Stanley's drums, with a layer of disembodied vocals draped atop the whole thing. Emotional yet clinical, wild yet contained, the sounds they offer are equally bizarre as they are pleasantly pretty.
Palm formed around 2011, shortly after its members met in college in Upstate New York. The years they spent writing and playing when not in school culminated in the release of Trading Basics in 2015, around which time they relocated to Philadelphia. Since then they've been playing shows throughout the country while they continue to hammer out their sound to be as refined as it is outlandish. More to come."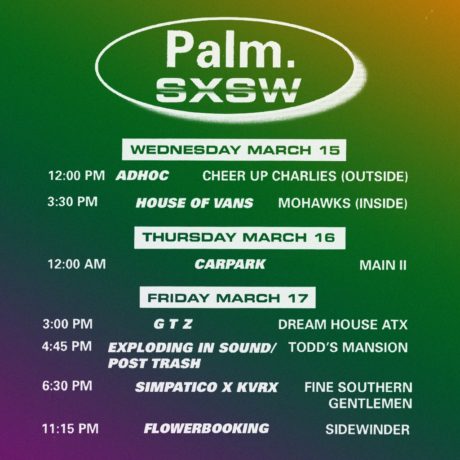 Tickets
on sale now
March 8th – San Francisco, CA – Bottom of the Hill*
March 9th – Los Angeles, CA – The Echo*
March 10th – La Jolla, CA – Che Cafe*
March 11th – Phoenix, AZ – Vica PHX*
March 13th – Santa Fe, NM – Meow Wolf*
March 15th – Austin, TX – SXSW (Adhoc Unoffcial Showcase)
March 15th – Austin, TX – SXSW (Vans Off The Wall Showcase)
March 16th – Austin, TX – SXSW (Carpark Showcase)
March 17th – Austin, TX – SXSW (GTZ)
March 17th – Austin, TX – SXSW (Exploding In Sound Showcase)
March 17th – Austin, TX – SXSW (Simpatico x KVRX)
March 17th – Austin, TX – SXSW (Flower Booking Showcase)
March 19th – Atlanta, GA – Purgatory*
March 20th – Durham, NC – Duke Coffeehouse*
March 23rd – Brooklyn, NY – Sunnyvale