How would you describe your music to someone?
Maximalist, ambitious, entropic synth rock for tired people trying to go somewhere shinier for a little while. Politically utopian, awkwardly vulnerable. Cyborgic material residues of an overactive imagination 
What was the last song/album you listened to?
Angel Olsen's MY WOMAN is like water to my brain. It's the record I've returned to the most in the years since it came out. The textures and melodies always bring me into harmony with my body in the best way
What is something that has inspired you recently?
Ann Powers' NPR review of Mitski's new record is a master class in writing musically. I aspire to that kind of writing in my own academic work, where reading the piece about the music feels as musical as the musical work itself 
What is something on your bucket list?
My humble wish is that I would like to be able to retire from full-time work someday and live in a communal setting somewhere beautiful with friends and family
Where is a place you'd love to go?
I want to go to Iceland and see the Northern Lights, preferably from a hot spring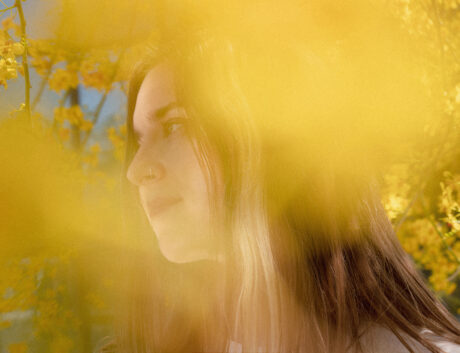 If you could have dinner with any person in history who would it be?
I feel like if I could just sit down with Jesus and get his side of things I might be able to clear some things up
What got you into making music?
I used to spend all of recess in elementary school sitting on top of the monkey bars with my best friends screaming Weird Al's original songs, then once the day was over, we'd mime playing along to every song on the Freaky Friday and School of Rock soundtracks. Eventually all the air guitar and singalongs became actual guitar and singing—and then my dad got me a little BOSS MICRO-BR and that was that! 
What are strong themes that you visited while making your album?
Queer desire, longing, grief, seductive nihilism, masochism, utopian hope
What's your proudest moment on your upcoming album?
It's hard to say! Everything it contains is the collective result of a tremendous amount of personal and creative growth. I pushed myself to experiment with textures and styles that scared me. I suppose I could say that I'm very proud of how bold it is, at least compared with my past 
What do you hope to do with your music in the future?
Everything and anything possible. If I'm being specific, aside from continuing to make records and writing books, I think it could be really fun and creatively challenging to score a film someday