The Beths just shared another winner from their new album, Future Me Hates Me. Watch and/or listen to the lyric video for "Happy Unhappy" via Noisey. The vid features a fantastic performance by a pineapple.
"Everyone idealises having a crush until you actually get one, and realise that it's actually pretty exhausting…the wonderful new single from Auckland four-piece The Beths, pinpoints this exact feeling of frustration perfectly." — Noisey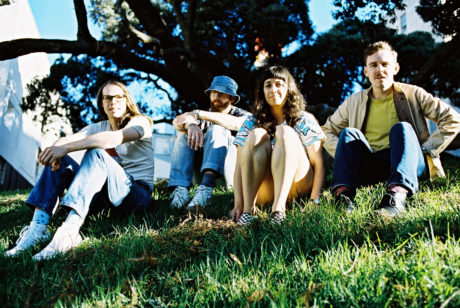 Pre-orders are currently available on the Carpark shop + you can check out the first two singles on all of your favorite streaming services.
ON TOUR NOW!
June 6th – Munich, DE – Kulturstrand
June 7th – Hamburg, DE – Astra Stube
June 9th – Kiel, DE – Secret Lake House Party
—
June 11th – Brooklyn, NY – Alphaville *
June 13th – Philadelphia, PA – Ortlieb's
June 14th – Washington, DC – Loves Me Not
June 16th – Chicago, IL – Charm School
June 20th – San Francisco, CA – The Battery
June 22nd – Los Angeles, CA – Make Out Music
* w/ Peach Kelli Pop